The Wynn was also one of the only things I liked in Las Vegas.
The bathrooms in the designer mall were the nicest I've ever seen, but my favorite section was Parasol Up / Parasol Down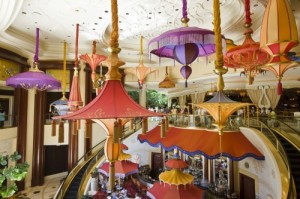 There is a fanatical attention to detail in Parasol Up.
Circles are everywhere, from patterns on the couches and the floor, to circular light fixtures AC vents, and speakers. I had this immediate sense that someone said "Go crazy, spare no expense, cut no corners." Same thing with the colors and fabrics, they were varied, but repeated. Loved it. Also great cocktails.
And of course the designer of the hotel is a middle aged gay man with impeccable taste:
http://www.rogerthomascollection.com/bio.php